Eclectic Hockey League Action
Stout Division
Gooner's Dogs faced Gears Beer with their main goaltender, Ben, in net. Ben is like a wall. Chris High, John (the kid) Finn and Mark Minaudo scored for Gears Beer to win 3-0. BTW, Ben assisted on the third goal:)
I have to share this: There was grumbling by Gooners players about the kid who scored all three goals for Gears Beer. So I looked into it and the "kid" was John Finn who I skate with a few times a week. John is way over 40! He was a late add as a regular to the team and wears a plain white jersey. We just don't look the same with gear on do we?
Inter Conference Play
Old Fokkers faced their first inter conference team, Bullfrogs 25. Bob Gidcumb earned another hat trick to lead Old Fokkers to a 6-3 victory over the kids!
Side note: There was an incident where a player went down hard and felt that he was slew footed. It got heated and the player addressed his concern to the ref. The ref felt that the player was out of line and the player was ejected. This is a reminder that we need to be respectful of our refs. There will be dumb calls, even missed calls. Yelling or swearing a the ref will not help.
Bullfrogs 40 broke their goal drought! (Celebrate small successes!) They faced Team TLC in their first Inter Conference game. The one goal wasn't enough though as Team TLC won 5-1. 
Health Status of Goalie: Our sponsor, Bullfrogs owner, Mike Stevenson was in net to start the game and he gave us a big scare. Mike was facing a ton of shots unfortunately, and he became so short of breath he couldn't get up. We had emergency response on hand with Rico and off ice we had Ben from Gears Beer, who is a Bay City fireman, as well as a few other guys helping out. Greg from Gears Beer called a paramedic and he was checked out. Other than high blood pressure, he recovered quickly and headed home. I spoke with him later that evening and he was doing better. Thanks to everyone who came together to help. We play hard but we are a fellowship and need to help each other out.
BTW, our regular goalie, Tom Huchings, skated with the Bullfrogs 25 team and came over to fill in for us. He got run over during the game. Not a fun day for our goalies!
Lager Conference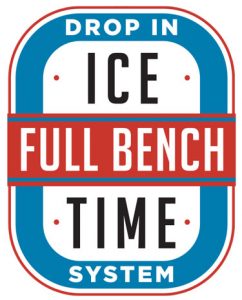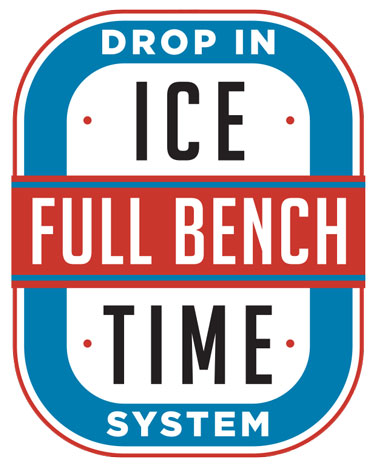 Gutter Guys faced Hartwig Tree in a very close game. John Moran of Hartwig got fired up in the third period and scored a hat trick! It wasn't enough though as Gutter Guys won 5-4.
Reminder that next week there is a UM Womens game against CMU after our games. We start at 10:30 am!
Looking for ice time?
Wednesday & Friday 7:30-9 pm Visit https://fullbenchicetime.com to grab a spot. 
Crystal Fieldhouse Leauge Standings
18A

18B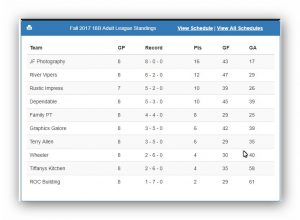 18C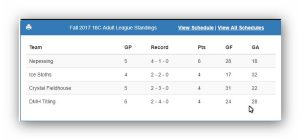 40A
I stopped in to watch Craftwerk vs Lemieux Agency since I know most of the guys on both teams. Lemieux Agency came on hard from a 4-1 deficit, but too little too late. Craftwerk got an empty net goal late for a 6-4 win.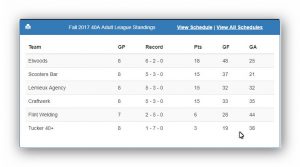 Polar Palace Leagues