The Greatest Game In The World!
"Every day is a great day for hockey." Mario Lemieux
Stop at any rink and ask around and you will find some guys and sometimes gals to skate with. Skill levels vary. Ages range from the very young to quite old. The trick is to find a skate that fits your skill level and temperament.
The About page has more info on the motivation for this project of mine, but you can see in the pic that I've been organizing hockey for a bit. That doesn't equate to great skill, unfortunately, but I do know a great skate when I experience it.
The goal of our organizing is to consistently create a perfect skate.
Our drop-in skates and leagues are optimized for fun. Our Tribe of skaters "get it" and do more to enforce our rules that I do some nights! We hold skaters accountable to these rules.
For most, these rules are easy to follow. It is simple respect for your fellow player and the rink. When a skater breaks the rules, we talk to him. If the skater doesn't learn then he is removed from the system and can't skate. Simple as that.
Rules Of The Skate
Show Up – no-shows are put in the penalty box.
Quick Shifts – 2 minutes is reasonable, ice hogs are not invited back
Pass The Puck – get everyone involved, don't just pass to your buddy
No Checking – we all have lives outside of hockey, this is just for fun
No Whining – no one likes a whiner
Wait for the Zamboni driver to get done before skating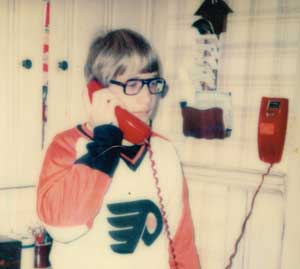 Dave has been organizing hockey for a long long time! Here is a pic of him calling skaters, January 1st, 1977.
See you on the ice!
Dave

Here to help if you have questions.
Looking for something that you can't find on our website? Let us know and we will respond promptly.