New Years Day Ice Battle Tournament Competitors
New Years Day Ice Battle a Success!
Final Game:  Peter Watchers 8 vs Flint Tropics 3     So, the champions of our first Ice Battle at Crystal Fieldhouse is Peter Watchers. I had to ask about the name and the response was that when they played together in juniors they would refer to spectators as peter watchers.
Well, as a spectator for the day, it was great hockey to watch! The ½ ice boards worked great, thanks again GFHA! The game was played cross ice. We did have one injury to Broc Lemieux. He broke his ankle during game 4. Broc skated for Soloman Plumbing. He is in good spirits, recovering well. We hope to see him on the ice soon!
Special thanks to Jeff Dennings, Jordyn Wainio and Annabelle Ward for their help during the day. Also, thank you to my lovely bride, Sue and Annabelles friend Wes for making the food run!
Read all the details from the day at this link here: https://gears.beer/virgin-tournament-under-belt/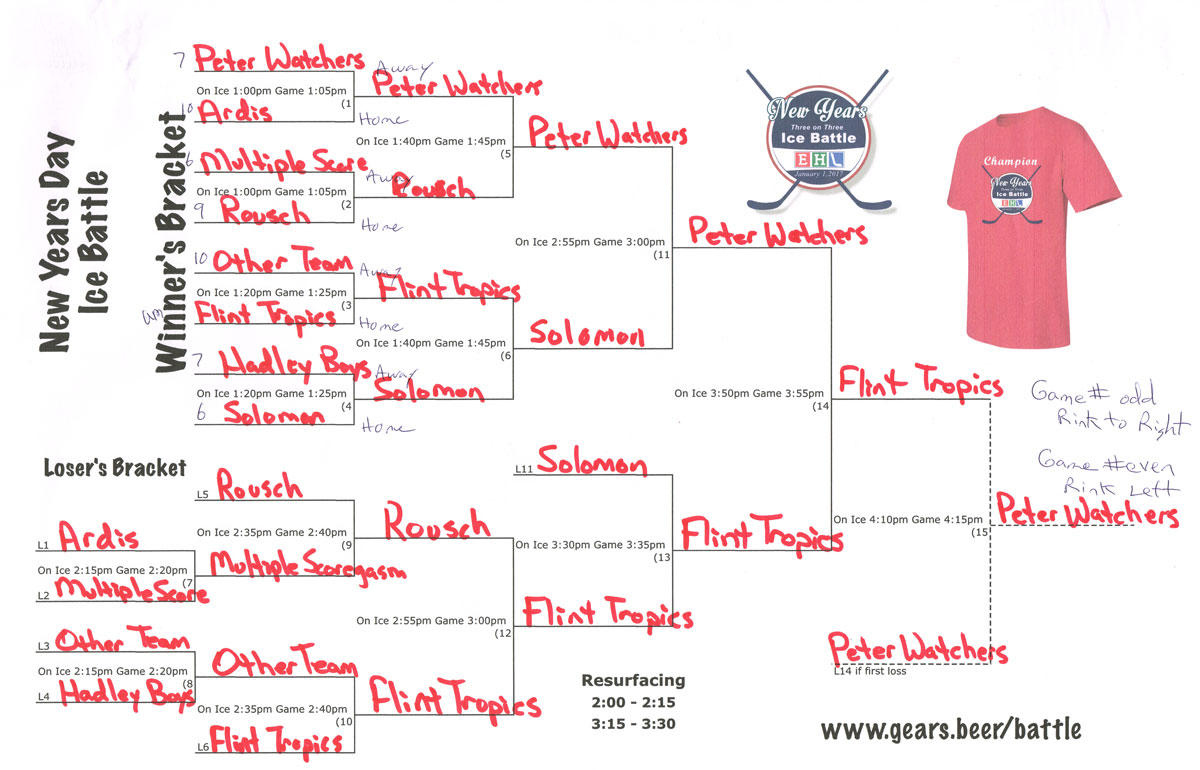 New Years Day 3 on 3 Ice Battle!
Jordan and Annabelle will be our official scorekeepers. Jeff will manage registration, take orders for shirts and get photos of the tournament for our website and a poster.
The Play
Double Elimination – you are guaranteed two games.
15 Minute run time games
Up to 6 skaters per team, plus a goalie
1/2 Ice – no off sides  (Cross Ice)
No checking
No Slapshots
Pasta Party included after the tournament for those pre registered.
Pasta Dinner