This is a color 8mm film reel recently digitized by Priceless Preservation of Ann Arbor (734-219-3916). It depicts excepts of game between Detroit and Montreal at Detroit's Olympia.
This footage was shot c. 1958-60 by the late Richard Maher. We have narrowed the time frame to the two coinciding seasons when Howe and Richard were both captains (1958-1969) based on the "C" on each of their jerseys,
Music" Hockey Night in Canada", "Hit Somebody" by Warren Zevon
Read more about this project at pricelessphotopreservation.wordpress.com
This film was digitized by PricelessPreservation, an Ann Arbor firm of U-M trained archivists devoted to helping families in southeast and west Michigan, as well as northwest Ohio, preserve and digitize their most precious memories. We work with slides, photos, photo albums, letters, videos and films.
We are now located at 122 South Main Street
Suite 110 C inside downtown Ann Arbor's historic Goodyear Building. You can find more about us at http://pricelesspreservation.com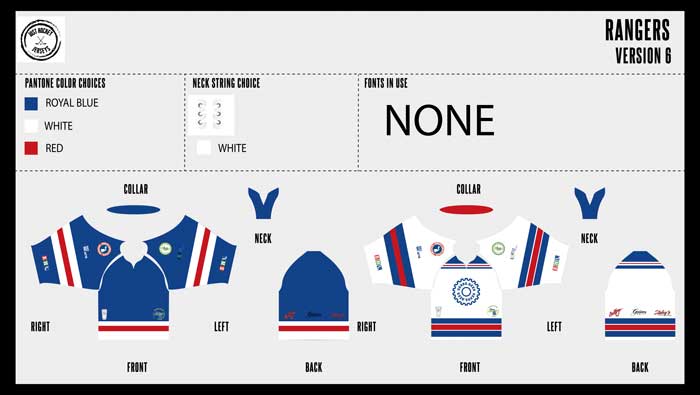 Wait! Did you see our jersey!
We are ordering dye sublimation jerseys in Rangers colors with EHL sponsors logos. They will be customized with your name and number in print or with Twill patches.