Old Fockers Wins Regular Season!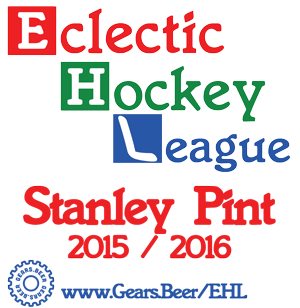 Sunday, March 20th
11:30 am – 12:45 pm Old Fockers vs MoJoes
12:45 pm – 2 pm   Crystal Fieldhouse vs Ergomatic
2:45 pm – 4 pm  Battle for Third Place
4 pm – 5:15 pm  Finals!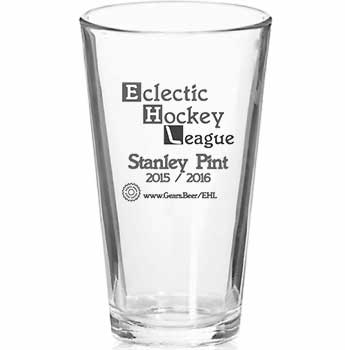 The Hop & Barley Prize Darren Newton of Old Fockers won this $50 prize last December.
The St Paulie Girl Prize $50 Prize to player with lowest number of penalties. Draw your card on the way into the rink – if you don't have a penalty!
The Guzzler Prize $50 to the player with the most points at the end of the season. Looks like seasoned pro, Don (Doc) Edwards stole the show with 46 points!
The Stanley Pint Prize Custom championship beer pint glasses will be awarded to each player on the winning team. With a case of beer!
Plenty of beer will be available on Sunday for the festivities!
I'm trying to get an idea of how many guys want to eat so I can order enough food. Use the Whoozin.com linke, or call or text me at 810-471-7767 or email dave@gears.beer to let me know your status please.
The 2015 / 2016 EHL Season is drawing to a close. This has been a lot of fun! Thank you to all who take the time to communicate with me, that helps me to make this work for everyone. The positive feedback really helps motivate me to put the time and effort in to keep things rolling along properly. We have made a number of changes throughout the season, the biggest being the game times. There have been few problems. My goal is to tackle the problems as quickly as possible to move on.
We have had some injuries, very sorry to report that. Mike Karas of MoJoes has a few screws in his ankle now, but is recovering. We hope to see Mike on Sunday hobbling along! Wayne Bruebaker is probably one of the older guys skating and he bounced back quick after separating a rib! The usual chipped tooth, cuts and bruises are all stories to tell. 
Big thanks goes out to all the team leaders, a thankless job. These are the guys who stress over what team is going to actually show up every Sunday! Darren of Old Fockers has a solid core group on his roster. Bobby from MoJoes brings an army every week practically, but had serious goalie problems. My team skates with a short bench just about every week! Ken Micketti was thrown into running the house team and has done a great job of making a team out of every stray player we could find! Thank you all who help with the teams and keep them functioning.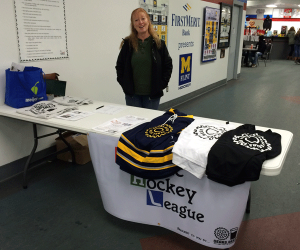 Now, whoever said that behind every successful man is a good woman doesn't know the half of it! We were fortunate to have two strong willed women to help all season. Bethany Kurtz brought her skill and passion for the game to our score keeping and organization. She has been my adviser all along the way and isn't afraid to speak her mind! Without her taking the time to record all the stats on paper as well as in the app, we would have had a mess on our hands. Thanks Bethany! Another constant all season was my wife Sue at the front to act as the information center for the league. Having that point of communication all season helped us work through any challenges quickly. 
Quick thanks to Andy Pavolich who runs the refs. We had some challenges early in the season with some younger refs who just weren't there to work. We have been getting the seasoned refs and they take a more active role in controlling play, thanks Andy!
Final thanks goes to Crystal Fieldhouse, our host. Mark and Michelle have been very accommodating to us. From changes in game time, to access to cheap beer, they have been there for us! Thanks! Crystal Fieldhouse is our home.
Now spread the word! We want eight teams next year in the early Sunday league! Games will run between noon – 4pm next year.