Full Sheets For Wednesday & Friday Drop In Hockey
There has been more interest in our skates the last few weeks and the list fills up fast! Soon we will have a new system to organize the skates, but it isn't ready just yet. For now the Whoozin.com system has been serving its purpose. Yet, it has been a challenge to keep space open for the "regulars" when the list fills up so quick. So, I've booked two sheets for a series of Friday nights. I'm working on locking in the goalies, which is the biggest challenge to pull this off. It will work out, but I wanted to give you a heads up on the schedule so you can recruit a few MORE skaters to fill two sheets. With tournaments coming up, generally we have more guys wanting to get some ice time in. I've only booked four dates of doubles so far.
Two Sheets Dates
February 10th

February 24th

March 3rd

March 17th
I had expected to start next week, Feb 3rd, but that won't work with the rink. Also, note that Feb. 17th isn't on the list for a double, we are off that Friday. So I booked the ice for Thursday the 16th of February. Yep, for some of us that will be back to back nights of skating! Were up to it!
Doan's Winter Classic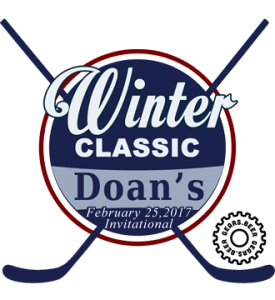 A much smaller, outside 3 on 3 tournament is scheduled for February 25th. Yep, we moved the date back again! Winter and Jim's family commitments have us pushed back a bit. There is only room for 24 skates. 6 teams of 4. We do a random draft based on a rating system. Everyone brings a dish to pass. You can learn more about Doan's Winter Classic at https://gears.beer/product/2017-doans-winter-classic/
Contact Dave if you have an interest in joining the tournament.
3 on 3 Ice Battle – June
Also, a heads  up on the 3 on 3 Ice Battle. I've booked 23 hours of ice time in June! 6 pm – 10 pm Friday June 2nd; 9 am – 8 pm June 3rd and 10 am – 6 pm June 4th. We are running a sanctioned USA Hockey 3 on 3 tournament in conjunction with the GFHA and the EHL. If you missed the New Years Day Ice Battle, you can check out the info at http://gears.beer/battle 
The 3 on 3 Ice Battle details are still in development. We are looking for a few sponsors to keep team cost down. More details to follow.
Angry Biscuit T-Shirts are in stock. Limited supply. Full color prints, $15 each.
Charcoal 6.0 oz., pre-shrunk 100% cotton
Double-needle stitched neckline, bottom hem and sleeves
Quarter-turned
Taped neck and shoulders
Seamless seven-eighths inch collar
Satin Label
Medium, Large, XL and XXL in stock
Will Skate for Pints t-shirt design. The Stanley Pint is the EHL Champs trophy awarded each year.
$15 Each
6.0 oz., pre-shrunk 100% cotton
Double-needle stitched neckline, bottom hem and sleeves
Quarter-turned
Taped neck and shoulders
Seamless seven-eighths inch collar
Satin Label
Medium, Large, XL, XXL in stock