Steady grades, clear path, great destinations!
Michigan offers over 2,000 miles of Rail Trails. The tracks are being bought up and converted to paved non motorized trails. Some allow horses. 
The rail trails are very level and many are paved. The crushed stone trails are like pavement, very wide and flat. The riding is easy, we generally ride at about 10 mph. So those with a need for speed can take off at their own pace. The intent is to enjoy a co-ed ride and work just hard enough to justify some refreshments!
Below are some photos of Paint Creek and Pere Marquette Trails. 
Paint Creek Trail
Rochester to Lake Orion
Pere Marquette
Midland to Clare
Upcoming ride schedule is posted in Google Calendar.
There will definitely be more riding going on, but these dates we could confirm far in advance. 
<iframe src="https://calendar.google.com/calendar/embed?mode=AGENDA&height=250&wkst=1&bgcolor=%23FFFFFF&src=2ts4ga6fcnpno8d34mcbo7c7i0%40group.calendar.google.com&color=%23B1440E&ctz=America%2FNew_York" style="border-width:0" width="500" height="250" frameborder="0" scrolling="no"></iframe>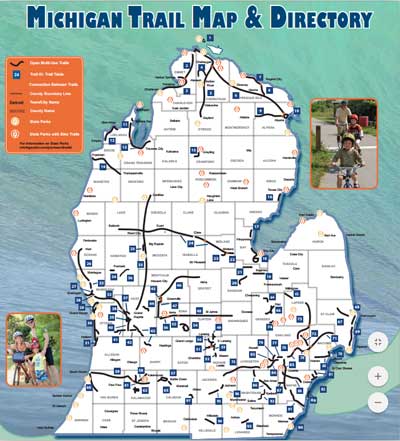 Michigan Rail Trails
Being based in Michigan has it's advantages. We have more miles of rail trails that most could ride in a year! More trails are being added all the time.
Not only is riding a bike on rail trials a safe way to get somewhere, but it is a fun ride!  Steady grades, few road crossings and lots of scenic views!
Our favorite ride so far is the Paint Creek trail from Rochester to Lake Orion, MI. About 10 miles each way, with a slight grade up to the brewery. That makes the ride back a bit faster with less effort to help with the full belly of beer and lunch!
Your invited to join us on a ride, sign up to get notified when the gang is forming with the email form on this page. Click the image above to visit Michigan Trails and Greenway Alliance to see all that Michigan has to offer for trails.